Hi. I'm Jocelyn Tuohy, a Registered Psychologist specializing in individual therapy, couples counselling, and parent coaching/consultation.
Since opening Emmaus Psychology in November 2019, I have had many questions about the name of the practice, how to pronounce it, and what it means. I thought that I would begin my first blog by introducing Emmaus Psychology and giving a glimpse into its history.
First off, lets start with the pronunciation of the name.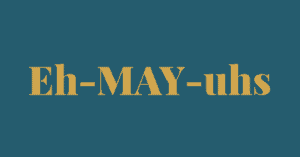 What does Emmaus mean?
Some people are aware this name comes from the bible, from the Gospel of Luke in the New Testament. Disciples were walking from Jerusalem to the town of Emmaus while discussing the resurrection of Jesus that had occurred that day. While walking to Emmaus, a stranger appeared and began walking alongside them, counseling them about the Messiah. They did not know that this was Jesus. Once in the town of Emmaus, Jesus is revealed to them.
About Emmaus Psychology
The evolution of Emmaus Psychology is slightly different than the biblical story. Emmaus Psychology is not a religious-based practice, but rather a practice that incorporates the most important values of relationship, compassion, and empathy. It started with my desire to carry on the legacy of my parent's company. My parents created Emmaus Services in 2001. It was developed as a consulting company in the oil and gas sector. They named their company, Emmaus Services, from that biblical story. When trying to decide on a name for my practice, I decided that Emmaus Psychology would be a good fit since the story is based on counseling and guiding, as well as continuing to honour my parents.
My parents are highly intelligent, compassionate, and authentic. I look up to them and have learned a great deal from their guidance. They have helped guide me through my years of education, through my career path, and now in opening this practice. They continue to be some of the biggest supports I have, and I am honored to continue using their name and carrying on the legacy of EMMAUS to help guide my clients on their own personal journeys.
My goal with this blog is to connect with people and offer helpful information and resources to those seeking support with their mental and emotional health. To make this meaningful, I want to hear from you on what topics you're interested in. If you have a suggestion, please email jocelyn@emmauspsychology.com or leave a comment on my Facebook, Instagram or LinkedIn accounts.